In This Issue

The workplace: A priority setting for health promotion


Doctor of the month

Ask VAID:

Ayurveda Can, AyurVAID Does:
Events Held-

Glimpses from the World Medical Tourism Congress, Washington DC, attended by Mr Rajiv Vasudevan, CEO, AyurVAID and Dr Ajithkumar Vivekanandan Nair, Senior Physician AyurVAID Hospitals. WMTC is the definitive global event in medical tourism represented for the first time by a company from the Ayurveda sector. Mr Rajiv Vasudevan delivered a talk on 'Chronic Disease Care and Sustained Wellbeing- the Ayurveda Perspective' at the Congress that was very well received. Ayurveda's primacy in providing root cause treatments for serious chronic diseases as well as to go beyond to the disease to positive health and sustained wellbeing was showcased to a global audience. AyurVAID also had a booth at the related expo, and was in the elite company of Fortis Hospitals, Manipal Hospitals, and Aster Medicity from India, and other leading hospitals from all over the world.
AyurVAID's Core Purpose

"We believe in care that enables whole person health and sustained wellbeing, by empowering our community of patients and their families, doctors, and caregivers, and through relationships that uphold trust"


The workplace directly influences the physical, mental, economic and social well-being of workers and in turn the health of their families, communities and society. It offers an ideal setting and infrastructure to support the promotion of health of a large audience. The health of workers is also affected by non-work related factors.

The concept of the health promoting workplace (HPW) is becoming increasingly relevant as more private and public organisations recognize that future success in a globalizing marketplace can only be achieved with a healthy, qualified and motivated workforce.

The IT revolution has not only created more jobs, but also led to increased musculo skeletal disorders. Slouching in a chair for hours can cause serious pains and aches, especially in the lower back. Over time, a bad posture can damage the spinal structure permanently, leading to severe chronic and lumbar pain.

Monotonous work that requires constant concentration with irregular working hours can also have adverse psychological effects. This in turn leads to

1. Insomnia,
2. Eye strain,
3. Neck pain,
4. Depression
5. Stress

Sitting at a desk all day and for extended periods at the computer can take a toll on your health. According to studies, risk of heart diseases is more among people who spend most of their day sitting.

One of the most common problems among computer users is Carpal Tunnel Syndrome.This occurs,when continual physical stress causes the nerve in the wrist to compress. Also complaints like ocular discomfort, neck- shoulder pain, backache and excessive fatigue are very common among computer workers and are coined as Computer Vision Syndrome (CVS).

Occupation-related problems are likely to increase further unless a long term preventive approach is followed.

Ayurveda is particularly successful in developing effective healthy work programmes that focus on primary prevention. Classical Ayurveda's diagnostic approach identifies the hazards associated with the combined effects of lifestyle factors and occupational exposures. Ayurveda diet, lifestyle and treatment approach helps in preventing and minimizing them. Health promotion that introduces healthy lifestyles and supports the maintenance of such lifestyles with appropriate information, counselling and educational measures to identify the risk factors is undertaken as part of the functional health enhancement programme.

Some of the common work related health problems


| | |
| --- | --- |
| Health Behaviours | Lack of physical activity, Addictions- Alcohol, Substance Abuse |
| Health Screening – Parameters | Blood pressure, Diabetes, Weight, Sleep, Menstrual periods |
| Injuries | Work related musculoskeletal disorders/Repetitive Stress Injuries-Carpal tunnel Syndrome, Back pain, Computer Vision Syndrome |
| Mental Health | Depression, Insomnia |
Identify the following warning signs of stress at work
| | |
| --- | --- |
| • Feeling anxious, irritable, or depressed | • Frequent headaches |
| • Apathy, loss of interest in work | • Musculoskeletal problems. |
| • Disturbed sleep/Loss of sleep | • Stomach problems-loss of Appetite,hyperacidity, bloating. |
| • Fatigue | • Lack of Concentration |
| • Social withdrawal, Suicidal tendency | • Cyber Addiction- Overuse of Internet/Mobile phones |
| • Using alcohol or drugs to cope | • Reproductive problems – Irregular periods, loss of sex drive, infertility. |
| • Memory Problems | |

How can you avoid these problems at your work place?
1. Know your body constitution- Prakriti to know your proneness to specific disease and diet and lifestyle which suits your constitution.

2. Regular screening of vital health parameters like BP, Sugar, Cholesterol, weight.

3. Observe the changes in your daily parameters to which Ayurveda attributes the utmost importance i.e. nidra (sleep), Agni (appetite), mala (bowels), mutra (urine),manas(state of mind).

4. Do not control your natural urges of sneezing, coughing, urine, stool while at your workplace. Controlling your urges leads to functional imbalance in the body which in a way leads to serious health implications.

5. Educate yourself about Ayurveda daily routine seasonal regimen and diet to follow.

6. Change your work pattern such as increasing physical activity, taking adequate breaks, splashing your eyes with water and going out for a quick stroll during lunch hour to get a dose of sunlight and oxygen.

7. Keep yourself hydrated with water intake every few hours while you are in your workplace.

8. Limit a regular pattern and type of meals at your workplace. Avoid binging.

9. Maintain your intake of caffeinated drinks i.e. tea, coffee, and aerated drinks.

10. Constant exposure to AC is harmful to health .The constant and direct exposure to cold, dry air can ruin the skin, robbing it of its elasticity, leaving it itchy, scaly and aged. Skin conditions like dermatitis and eczema are common among those who spend long hours in cool, Dry, recycled air. Sudden and extreme temperature fluctuations in the body can also affect the joints.

11. Follow the right workplace ergonomics – correct Posture, adequate light, proper computer settings etc.

12. Get enough sleep and adequate rest

13. Avoid Nicotine and alcohol intake.

AyurVAID's Functional Health Enhancement Program



AyurVAID Hospitals offer high impact Ayurveda programs to alleviate lifestyle and work-related disorders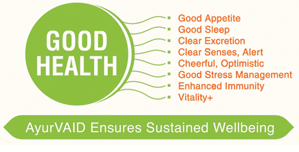 Ayurveda's vision of good health as articulated 2 millennia ago is not just the absence of disease but the presence of positive health as personally experienced by each person. AyurVAID Hospitals' Functional Health Enhancement (FHE) short-term programs put you on the fast track to a healthier, happier and more rewarding life.

The intensive 2-day, 2-night residential programs focus on key parameters such as Sleep, Stress, Pain or Computer Vision Syndrome. That is a whole weekend of focussed attention and treatment from practitioners who apply the full gamut of classical Ayurveda treatments to deliver a health regime that will have long-lasting positive results.

Short-term (1 day-2 day) programs tailored to functional health problems arising from modern lifestyles (e.g. sleep, stress, pain, computer vision Syndrome, etc.) are a gateway or introductory experience to accessing authentic Ayurveda health services

It is your

first step to a lifetime of better health through time-tested, natural methods.
Doctor of the Month

Dr. Swapna Gunjal, BAMS, MD (Panchakarma)
Physician, AyurVAID Hospital, Domlur, Bangalore


Dr Swapna works as a physician at AyurVAID Hospital. She brings with her more than 2 years of experience. She holds a Bachelor of Ayurveda Medicine & Surgery from SDM college of Ayurveda Hassan and Post Graduation from Alvas Ayurveda Medical College Moodbidri in Panchakarma.


Dr Swapna has specialised in treating Diabetes Mellitus, apart from Arthritis, Skin Disorders, Gastrointestinal Disorder, Musculoskeletal Disease, Neurological Disorders and several Lifestyle disorder. She has also worked as research officer in AyurVAID Discovery Foundation and has Is interested in various research activities in the field of Ayurveda.


She has published a paper on Diabetes and its management in Journal of Ayurveda and Holistic medicine. She has also presented papers in various National and International seminars and received the best paper award for ' Role of virechana in the management of Vatarakta'. She has participated in many national and International Seminars, Conference and Workshops.


She has delivered many talks on Ayurveda and its benefits on bringing about awareness anong women and the need of Panchakarma for health seekers, conducted by AYUSH and other Health organizations. She also participated and served in various camps includes NSS, National Leadership camp and Health camps.

Ask VAID:



Get your queries answered at AyurMAIL by a reputed Ayurveda physician or VAID:from the AyurVAID team of senior physicians.



VAID: Vaidya Zankhana Buch, Consultant physician AyurVAID hospitals answers the following query.



Question: Hello doctor, I was curious about how many calories should be consumed daily according to Ayurveda medicine. I have a Kapha body type with a tendency to gain weight; I am also a Vegetarian. What would would be an appropriate amount of calories to eat daily, and how many meals should be consumed daily? Thank you for your time. (Via email)

Vaid: Zankhana's Response:

Ayurveda Quantitative dietetics states that the quantity of food depends on one's power of digestion. The power of digestion again depends on several factors like your body constitution, season, Climate/geography, gender, time of the day, type of work, etc. Instead of counting the calories of food, know your digestive capacity with the body responses in following ways:

1. Appetite- Do you feel hungry at Same time –interval?
2. Quantity of food consumed- High/Medium/Low.
3. Feeling after food- Belch/Bloating/Burning Sensation
4. Your Ability to digest milk- High/Medium/Low
5. Your Ability to digest spicy - oily food
6. Any food that causes loose motion?
7. No of Motions per day.
8. Stool size/ clear and complete evacuation,
9. Additional signs and symptoms of pain/burning/bleeding while passing stools.



Follow some Ayurveda principles of eating which will in a way ensure that you take the right amount of food.



1. Eat only when you are hungry.
2. Lunch should be the main meal of the day, breakfast and dinner to be lighter.
3. Find out if you are overeating. Normally, if you overeat, you will feel heavy and perhaps sleepy after meals.
4. The space in the abdomen (gut) should be divided into 3 equal parts for the food. One part is for the solid food materials that we consume, 2nd part is for the accommodation of the liquids and the 3rd one is for the free moments and action of the 3 humoral factors (doshas) Vata, Pitta and Kapha. If the person consuming food follows the above said principle he/she will never be subjected to the ill effects caused by inappropriate consumption of food. Practice this Ayurveda principle of eating to control your natural tendency to gain weight.
Ayurveda Can, AyurVAID Does:

Chronic Psoriasis case treated successfully at AyurVAID