A Healing Vacation at AyurVaid Kalmatia
I underwent the Panchakarma treatment at AyurVAID Kalmatia. I have been here for 14 days, and I am leaving with a refreshed mind – all thanks to the wonderful staff and the beautiful setting amidst the mountains.
All my needs – from diet to seeking information about my health, have been met here which is why I call it my second home! The staff members are immensely pleasant and have always greeted me with a smile on their faces. Something as drab as khichdi and Papad tasted delicious because of the love with which they were served. There is literally love everywhere!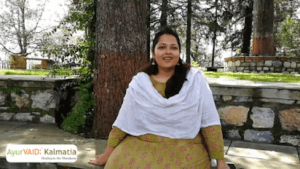 This place has been maintained extremely well by the staff. There is a perpetual sense of serenity amidst the hills and the staff takes extra care to ensure that the environment of the hospital is tranquil. You are always cheerful, and you always have someone to talk to.
I'm going to miss all of this and much more. There is no doubt that I'll come back for my next treatment!