The concept of Satsangha validated! (Sanskrit सत्सङ्ग sat = true, good, enduring, sangha = association) Satsangha represents the company of the "highest truth" or association with an assembly of persons who listen to, talk about, and assimilate the truth. Or, simply- association with the good.)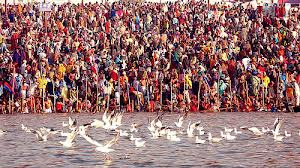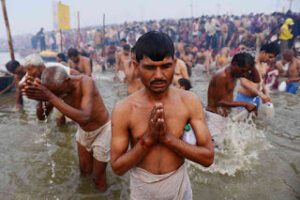 The research focused on the Kumbh Mela. Participants (comprising 416 pilgrims who attended the gathering for the whole month of its duration, and 127 controls who did not) completed measures of self-assessed well-being and symptoms of ill-health at two-time points. The first was a month before the gathering commenced, and the second was a month after it finished. The study found that those participating in this collective event reported a longitudinal increase in well-being and reduction in symptoms of ill-health relative to those who did not participate.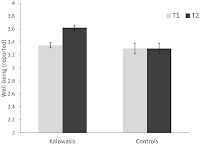 Increase in wellness                                         Reduction in ill-health
The paper suggests that we should reconceptualize how mass gatherings impact individuals. Although such gatherings can entail significant health risks, the benefits for well-being also need recognition. Indeed, an exclusive focus on risk is misleading and limits our understanding of why such events may be so attractive.
The study is noteworthy in that possibly for the first time a social event has been correlated with health and well-being. The paper posits that well-being derives from a sense of shared identity ('we-ness') that develops in groups. This leads people to experience mutual trust, respect, and cooperation. It can also lead people to expect support from their fellow group members and believe that they are better able to control their everyday lives. Thus, the paper concludes that participating in a religious activity as part of a group clearly has significant benefits for well-being.
Explanation:
When one is part of a larger group, one's own selfish/limited identity melds into the larger identity, and a heightened sense of belonging, wholeness, integrity and security perhaps prevails for each member of the group. One is by default compelled to live in the now, forgetting the baggage of the past and looming threats to wellbeing. The intimate connection between the spiritual-mental-physical dimensions of a human being is effectively exemplified by this sociological study!
As one religious leader said, "In satsangha, the wandering mind comes back to the present moment and experiences a deeper dimension to life".
Adi Shankaracharya, the great Advaita Saint & Yogi reminds us:
Satsangha twe nisangha twam  
When you are in good company, you are not in bad company
Nisangha twe nirmoha twam
When you are not in bad company, you don't fall into delusion
Nirmoha twe nischala ta twam
When you don't fall into delusion, the mind becomes steady
Nischala ta twe, jivamukti
When the mind becomes steady, you are liberated
Ayurveda recommends regular satsangha for all to maintain spiritual and mental equanimity resulting in good health and well-being, and progress toward self-actualization.