AyurVAID Whole Person Care
Treats and reverses multiple diseases at one go.
What is Whole Person Care?
Many people suffer from multiple diseases simultaneously – one or more of severe diseases, chronic conditions, and so on. For anyone suffering from them, multiple diseases take a significant toll on the quality of life. AyurVAID's Whole-Person-Care (WPC) program is uniquely positioned to help these patients.  Rather than meet multiple specialists to treat different diseases, one AyurVAID Physician takes total responsibility for your health. It is like having a specialist doctor who knows your complete health history, factors influencing your health, and your current complex health status. Classical Ayurveda science enables this understanding through its 'systems thinking' approach whereby we can analyse many causes that lead to many effects (diseases and their symptoms) in a many-to-many interaction model.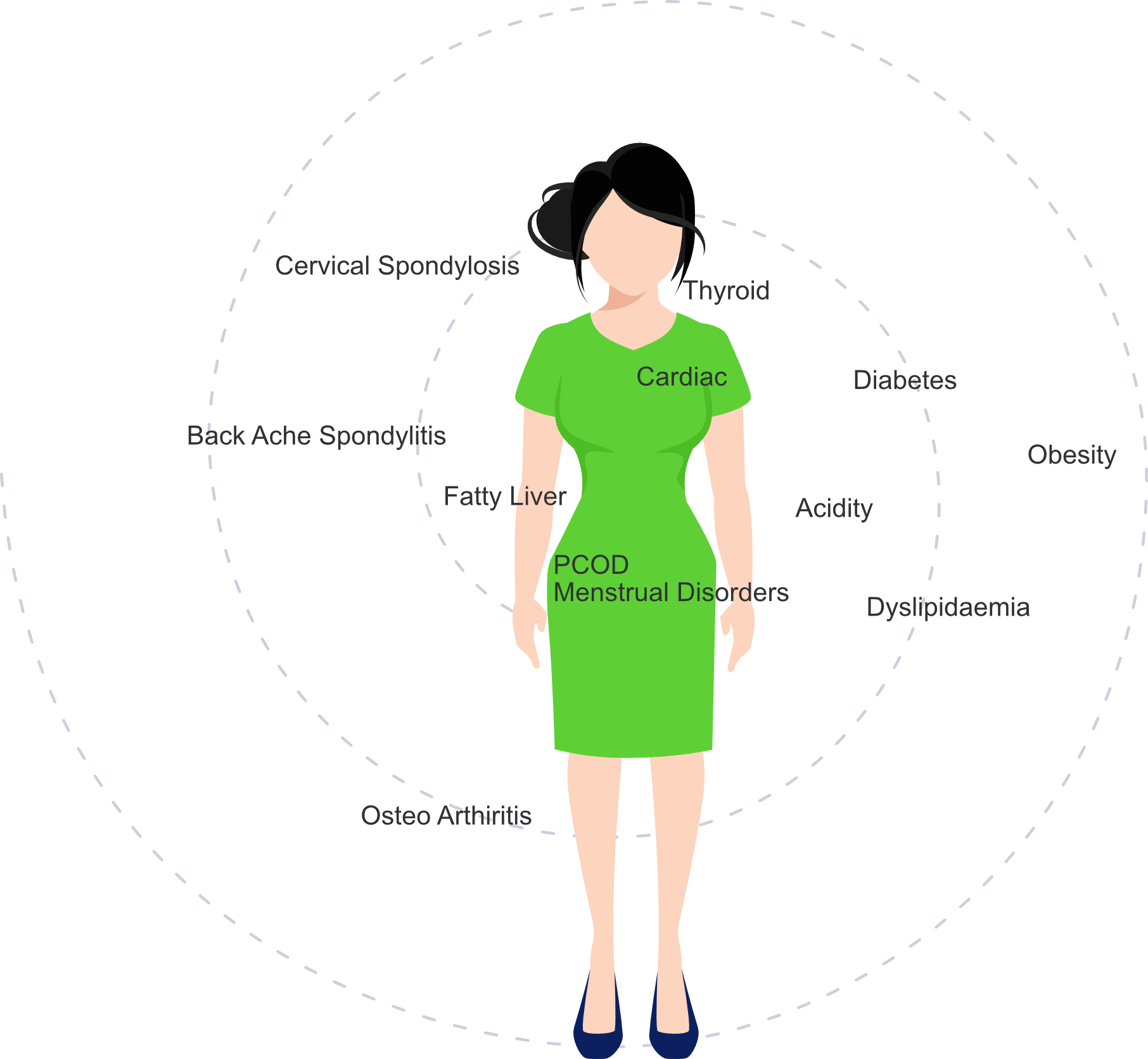 Outcomes of Whole Person Care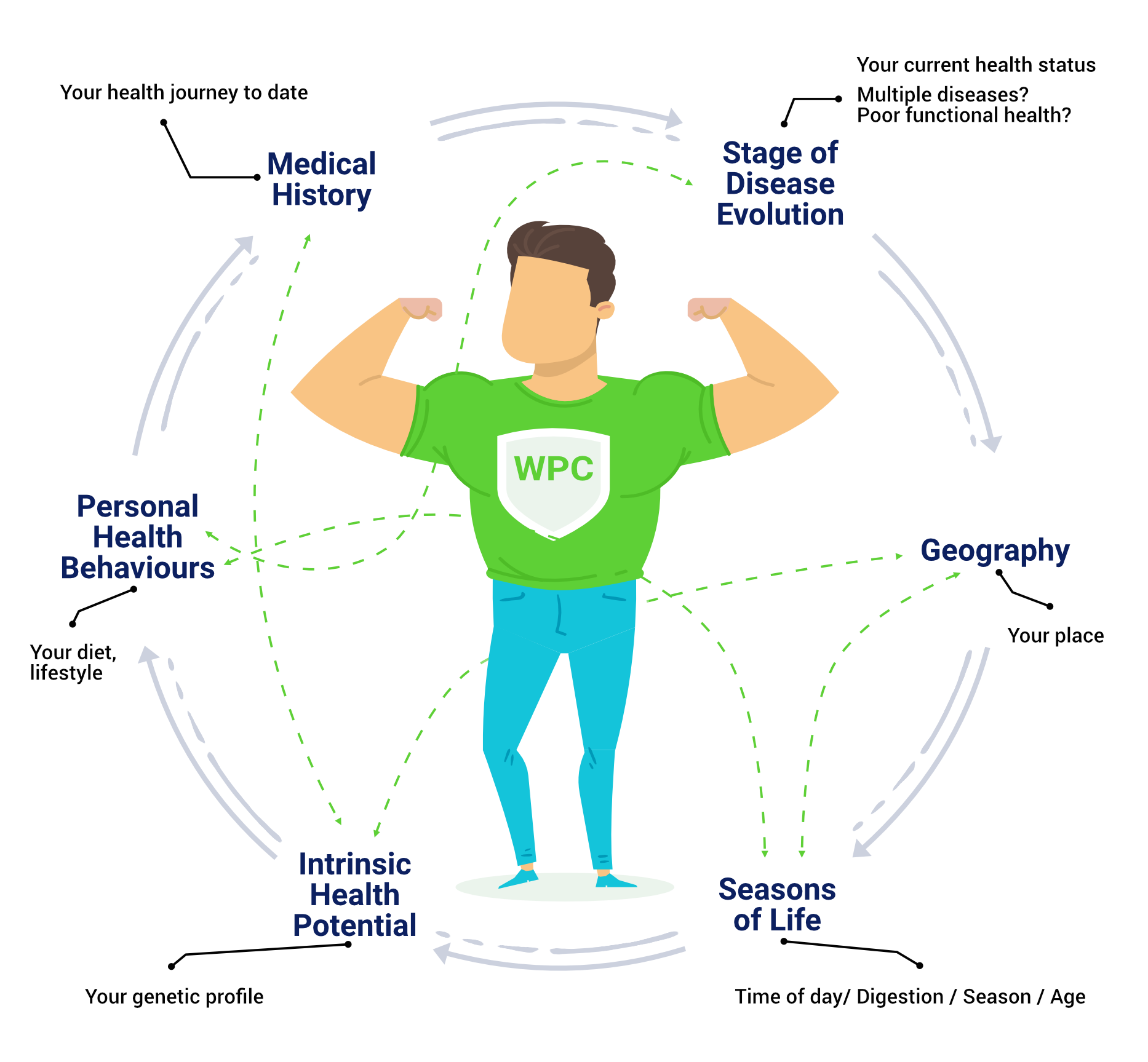 As can be seen in the illustration, health status is the outcome of the complex interaction between many factors. Remember one disease may lead to another (e.g. diabetes leading to heart disease), and the treatment for one disease may lead to another one (e.g. chemotherapy leading to neuropathy);
AyurVAID pioneered this rigorous, protocols-driven approach to whole-person health and well-being not only within the Ayurveda sector but within the healthcare sector as a whole.
Determination of Your Health Tree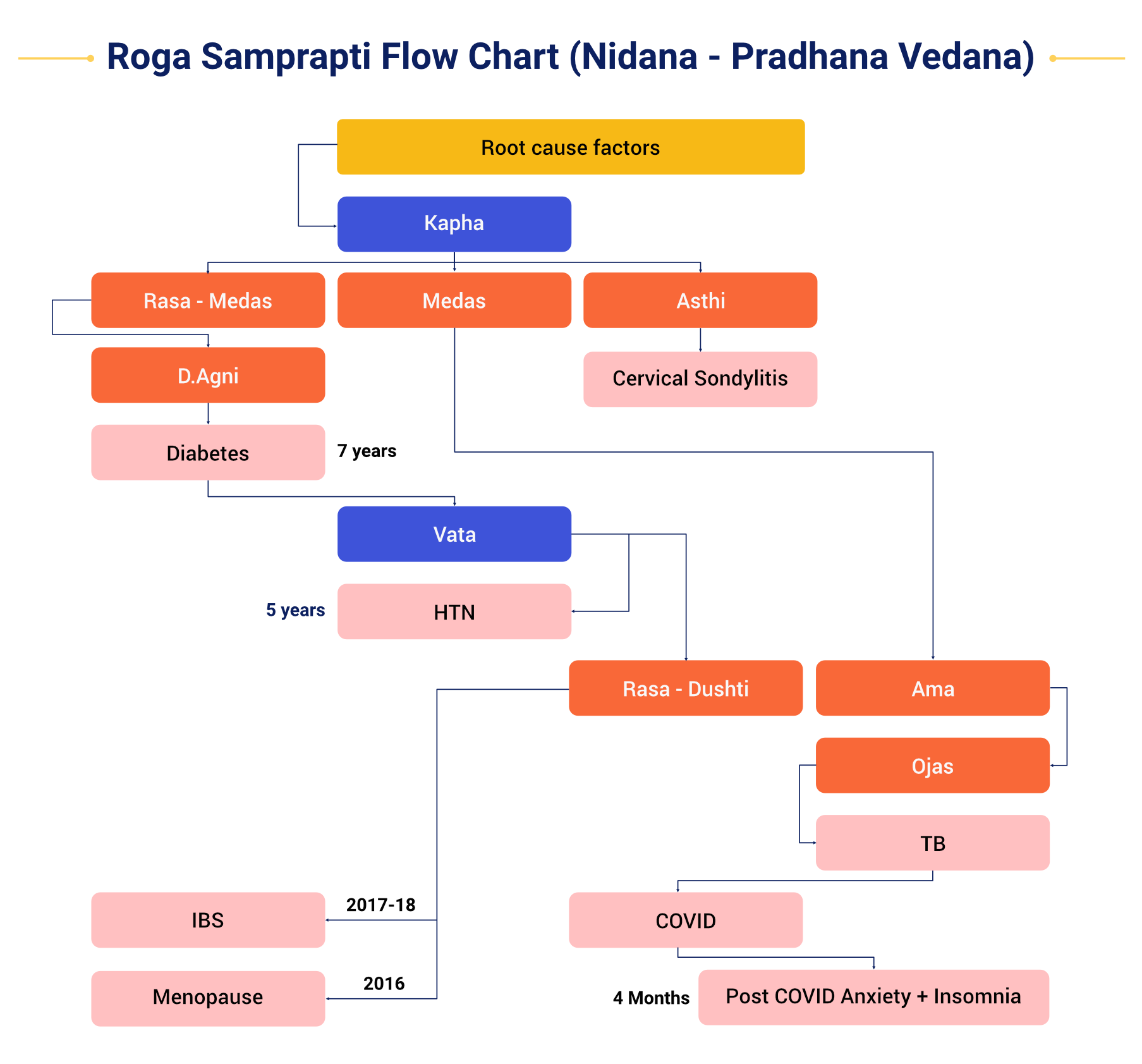 AyurVAID leverages classical Ayurveda science to assess the unique health status of each individual to arrive at the aetio-pathogenesis status for the individual – the original causative factors (Nidana Panchaka) and the pathways by which diseases evolved leading to the signs and symptoms of disease exhibited by the patient.
The cornerstone of WPC is the comprehensive assessment by the AyurVAID physician to arrive at your health tree – a full representation of your current health status with disease pathways. Ayurveda posits permanent disease reversal beyond mere symptom alleviation/ suppression by reversing the pathogenesis right down to its root cause – aetiological factors. This approach is the only one that works when someone is suffering from a serious, chronic disease or a set of several diseases.
Case Example: Ms. Ruchi, presented with sleeplessness, anxiety, digestion & bowel issues
Advantages of Whole Person Care
Conventional Ayurveda Approach

AyurVAID WPC (Whole Person Care) Protocol

Symptom alleviation + Sustained relief + wellbeing

Management of discrete conditions, separately.

No unified plan of care

Establishes disease pathways
Reverses pathogenesis at whole person level
Personalised Health Plan

Personalised, holistic prescription of diet, lifestyle, medicines and therapy (one or more, as necessary)

Individual conditions managed by different physicians

Continuity of care –
1 primary physician/patient
Listen to our patient's voice
How are AyurVAID's physicians trained to address multiple conditions?
With our rich experience over the past 17 years in treating more than 300,000 patients, we have developed a unique approach to diagnose issues, assess root causes, and define solutions for patients at a whole-person level. Our physicians are trained to identify issues at a systems level and provide holistic solutions.
How are the outcomes of this approach in comparison with conventional methods?
Our patients vouch for our outcomes. With the whole-person care approach, our patient satisfaction scores are at 92%, which is a benchmark for the industry. The outcomes are not only experienced after the treatment but also are sustained for an extended period due to the rigour of our approach.
Is AyurVAID's Whole-Person-Care more expensive than conventional Ayurveda care or conventional allopathy care?
No. In the short run, the cost will be comparable to both conventional Ayurveda and allopathy care. In the long run, our Whole-Person-Care approach will be significantly less expensive than either of the alternative options as the benefits are sustained for a longer period. Beyond the expense, AyurVAID's Whole-Person-Care delivers significantly superior health outcomes, i.e. much better RoI (return on investment) for the patient.
What should I do to experience AyurVAID's Whole-Person-Care approach?
The first step is the comprehensive consultation that is provided. We recommend you book either a tele-video consultation or an in-person consultation with a physician of your choice.
Request Call Back for Whole person care