Ayurveda Medical Management Strategy:
Prescription of [Diet+Lifestyle+Medicine+Cleansing Therapies] customised to the patient and the stage of his diabetes disease.
LAB INVESTIGATIONS

31.05.16
On 1st Consultation at AyurVAID

14.07.16

26.08.16
1 Month Later
31.10.16
2 Months Later

Oral Hypoglycemic Agents-Tab. Glimp m2

5.6 (Continues to be Non DIabetic)
Clinical Outcome Measures

Physiological status: Coating on tongue



Weight (Kg) (Note: Weight loss has been recovered)

Numbness and Burning sensation in soles
Physician's Outcome Scale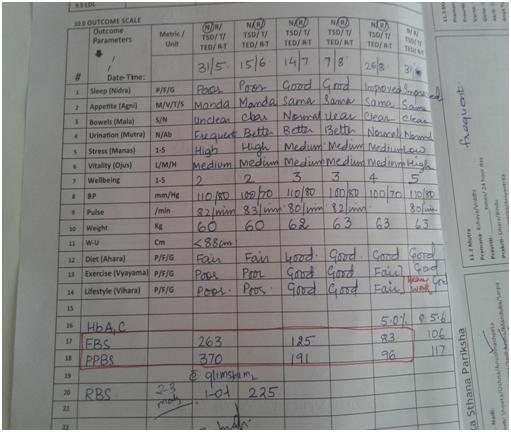 Summary Of Medical Outcomes Achieved
1. Clinical Signs of Diabetes Mellitus- Absent
2. Management of full-blown Diabetes to sustained normo-glycaemic (normal blood sugar) range over a period of 4 months
3. Oral medicines- Tapered gradually and now totally withdrawn, owing to significant and sustained sugar control with Ayurveda anti-diabetic oral medicine
4. Ayurveda Antidiabetic Medicines Tapered and withdrawn, patient maintaining Non Diabetic HbA1C range post 2 months
5. Healthy Diet and Lifestyle as per Ayurveda Recommendations Adopted
6. Monthly Review Plan till date followed.
Takeaways
 Ayurveda understands and addresses the specific aetio-pathological pathway of Diabetes process and its current stage of evolution in the patient.
Preempts the escalating spiral of higher dosage medicines/insulin
Prevents diabetic complications (neuropathy, retinopathy, nephropathy, non-healing wounds), in addition to the potential risk of various as Hypertension and Atherosclerosis
Improved 'Quality of Life' totally relieving the patient of all his complaints present as an adverse impact of Diabetes